eBay is the world's number one auction website, where you can buy anything from tires to cars. It is a website where individual buyers and sellers can gather, and also supports many small businesses who sell their products through its website.
eBay sells more than 100 million products worldwide and $2,300 worth of products each second. Since ebay's inception, it has acquired a number of other companies under its umbrella, including Paypal, StubHub, and Shopping.com. (eBay's logo is the word "ebay" with the letters each in red, blue, yellow, and green.)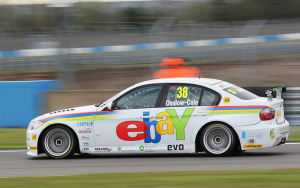 eBay works in a few ways, one way allows sellers to offer their goods up for auction in a set period of time. Another way is there, "Buy it Now," feature, which allows sellers to sell an product instantly. Businesses and private sellers can set up "storefronts" that showcase their inventory.
eBay Motors is eBay's auto division, offering an large range of vehicle products, from vehicles to accessories. Launched a couple years after eBay in 1998, it started largely as a website for car collectors and finally expanded to anyone interested in selling or purchasing a car or parts. Like the larger eBay site, eBay Motors is a place where people can buy or sell vehicle parts or a website where sellers can list their stuff.
eBay motors sells cars, trucks, motorcycles, powersports, RVs, golf carts, and other vehicles, as well as parts and accessories. It is  one of the top websites out there and has sold close to 5 million cars.